Importing the sliders purchased from our site is easy. To know how to import the sliders from uxdivi templates, pay attention to the following steps.
The first thing is to understand what Slider Revolution is, and for this, we will cite the most appropriate concept that we get from the ekumba people:
Revolution Slider is a WordPress plugin that allows you to create and design sliders, still images or video to include on our web pages. The great advantage over its competitors is the enormous degree of customization it offers, as well as the wide variety of functions and features. Currently, we could consider it as the best plugin to carry out this task, being one of the most used worldwide.

ekumba.es
Revolution Slider File Type #
In Revolution Slider what we edit is called "Module" and we find them in the first section of the RS panel:
And when exporting these modules, a file with a .ZIP extension (compressed file) is downloaded
This is the file that we will use to import to our site.
Import Revolution Slider .ZIP file to WordPress #
The import process is very simple. Just go to the Revolution Slider panel and select the option «Manual Import»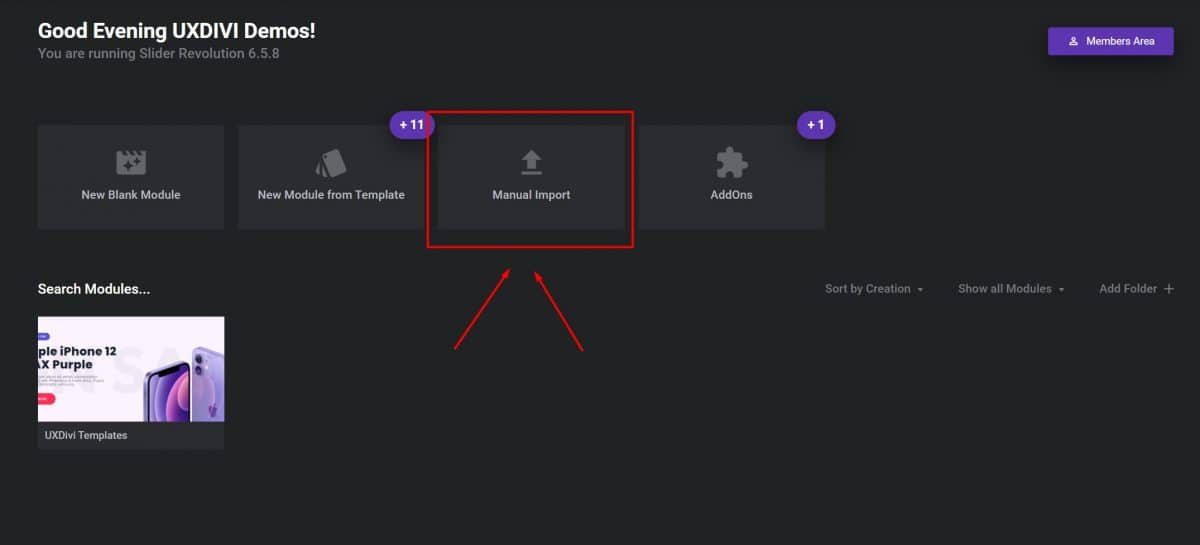 There, select the .ZIP file to import and wait for it to do the uploading process
And ready! Once the file is imported we can start using it on our site.
Edit and customize the Slider #
To customize the Revolution Slider you must, of course, have knowledge in editing this tool. Even so, if you don't have much knowledge about it, we leave you here the official Revolution Slider documentation, so you can learn to edit the slider in a basic way.
Place the Slider in Divi #
To place a slider in Divi, just open the constructor, and through the revolution slider module inside Divi, place your slider inside the row or section you want.